Tips For Optimizing Your Shipping Costs
Whether you're running an eCommerce store or handling fulfillment in-house, shipping costs are one of your biggest overhead expenses. Fortunately, there are ways to reduce your average shipping cost without sacrificing customer satisfaction or profit margins!
• The Right Carrier For The Job
One of the most important things a business can do to lower shipping costs is to use the right carrier for the job. This will help to ensure that your shipments are delivered in a timely manner and without unnecessary charges. For example, you may want to consider using a regional carrier, which can offer reduced rates for local deliveries. Another cost-saving tip is to look into a long-term contract with your shipping carrier. This will give them time to shape up an efficient network that reduces dead miles, and you could see savings up to 3-5%. There are several other ways to optimize your shipping costs, including using a transport management system and making sure your labels are correct. These tips can help to significantly reduce your shipping costs and save you money in the long run!
• Transport Management System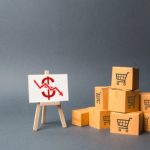 Whether you are a truckload carrier, freight broker or less-than-truckload (LTL) company, a transport management system can help optimize your shipping costs and improve your logistics processes. They provide a centralized database for the rates that carriers charge and automate the process of comparing them. TMS solutions also streamline the booking process, replacing phone calls with efficient digital booking. This reduces time spent on paperwork and eliminates the risk of errors. A reliable TMS can also help you track drivers to ensure that they are delivering shipments on time. This can help improve customer service and ensure that you are getting the most out of your shipping cost savings.
• Make The Most Of A Discount
Whether you're new to ecommerce or you've been in business for decades, shipping costs can have a significant impact on your bottom line. However, they're also a great opportunity to build in a little extra profit margin by using discounted shipping services. A lot of carriers offer pricing discounts based on shipping volume. This is a great way to save money, especially for smaller businesses that are often overlooked by carriers. These savings can add up to more than 50 percent of your total shipping costs. But you'll need to comb through your historical data and look for opportunities to negotiate a better deal.